Happy Mother's Day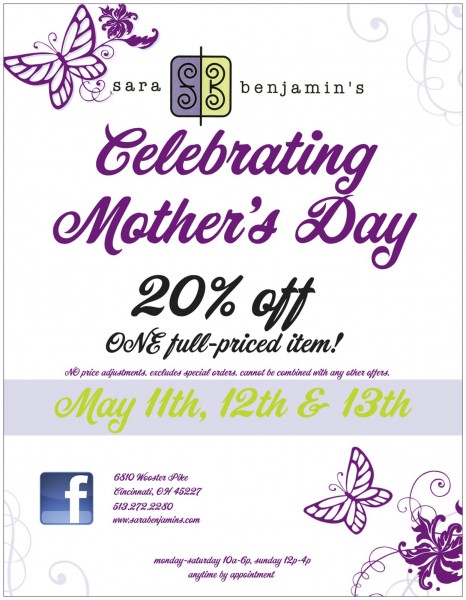 Happy Mothers Day to all you fellow mothers and moms-to-be! What better way to celebrate Mother's Day with a little treat for yourself this weekend...
Which brings me to ANNOUNCE my new venture, blog and future web-site: "CINCINNISTA." As many of you know...I have a passion for great design, art AND style and fashion. Cincinnista is going to be the premier expert for style and fashion in Cincinnati! Each week I will write about "where to find what" and the latest deals at all the best stores and boutiques in the area. Looking for that perfect pair of jeans? The perfect, cocktail dress for a party? A unique, fun top to wear for work and your day off? "Cincinnisti" will showcase all of that and more! Think of me as your girlfriend with great taste, loves to shop and knows where to find everything!
Ok....so here are a couple Mother's Day tips and deals to start:
Sara Benjamin's in downtown Mariemont is offering 20% off one single full-priced item now through Mother's Day. I love this store....Lori Tanzer has some beautiful clothes and jeans! See attached flyer. sarabenjamin.com.
Monkees Madiera has a Mother's Day gift card special. Buy a $50 gift card for mom (or yourself!) and receive 25% off one full-priced item. I've already taken advantage of this one! MonkeesofMadeira.com.
That's it for now...Happy Shopping!