How To Choose The Perfect Rug for Your Space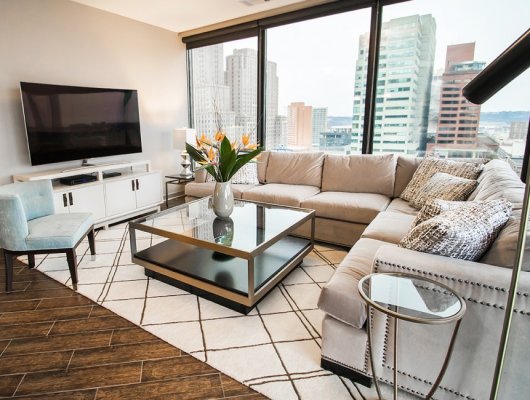 Looking for a quick way to update a room? Consider the power of rugs. Deciding on a rug can be tricky, as it can define the mood of the space. With so many options on color, material, and size, it is difficult to narrow down which rug is best for you. Even if you like the look of a certain rug, the material and size may not be the best option for your space.
The main things to consider when shopping for a rug are; material, use, color or pattern, and size. The type of rug can be determined by how much foot traffic the room gets. Certain materials are better suited for high traffic areas, like jute, wool, or wool blends. Quiet spaces are the places best for shag rugs or hand-tufted rugs. Places like bedrooms are great for these types of rugs because they are low-traffic areas. In the middle, dining rooms and other moderate traffic rooms, flatweave rugs are a great option, providing a soft texture that is durable enough for the amount of use.
While shopping for a new rug, also consider who will be the main user of the space. People with limited mobility do better with low-pile rugs to avoid trips. A space for children needs a rug that is easy to clean, so cotton or a loop-rug provides softness, but also durability. Polypropylene outdoor rugs accomplish the look of an indoor rug, but liquids and spills that occur in outdoor spaces can't penetrate the fibers making these rugs a great choice for outdoor patios, gyms, or 3-season rooms.
The next thing to consider when choosing a rug for your space is the shape of the rug, depending on the needs of your space, different shapes work in different ways. Choose the shape based on the main seating area of the room. If the main seating area's footprint is square, opt for a square rug. If the main seating area in your room is rectangular, opt for a rectangular rug. If you are using a rug under a dining table, make sure it is wide enough to accommodate the chairs when they are being used and pushed out.
Finally, the size of your rug is a decision you'll need to make. The simple rule of thumb is the larger the room, the larger the rug. Remember that at least the front legs of your furniture should be able to rest on the rug, so consider the layout of your room before deciding the rug size.
Ultimately, the most important factor for choosing a rug is that it is right for your space and makes you happy to see when you enter the room. Rugs can last a long time, be sure to purchase according to your long term needs.