A New Project in Walnut Hills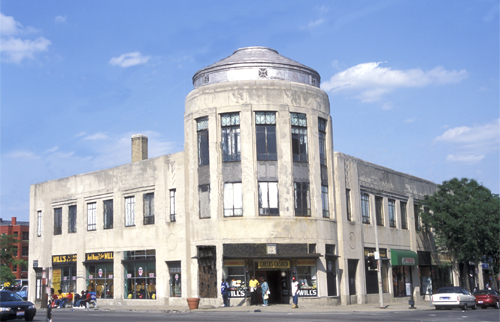 Our team at Amy Youngblood Interiors is taking on an exciting new project! Alongside New Republic Architecture, Walnut Hills Redevelopment Foundation, and Model Group, we are honored to be a part of the multi million dollar redevelopment of Walnut Hills at Paramount Square. Located just off East McMillan and Gilbert Avenue in Cincinnati, these beautiful historic buildings are being transformed into amazing renovated spaces, a larger effort to redevelop future areas all along McMillan Street.
The district's 80 buildings were largely built in the late 19th and early 20th centuries, combining architectural detail from classic Revival to Italianate, Queen Anne and Art Deco designs. The main Paramount building on the corner is equipped with three-stories, two floors of commercial space and a third-floor space as part of the building's front rotunda. The Paramount theater operated for three decades before it closed in the 1960's.
The Art Deco style of the Paramount building originated in the 1920s with a revival in the 1960s. Its interior style is coined by curvaceous forms and thick outlines, often paired with bold colors and geometric motifs. Art Deco buildings reflect their interiors with a linear appearance mixed with ornate features. The use of shiny fabrics, metallic paintings, and sculptural table lamps will complete this Art Deco spectacular project.
We can't wait to preserve these unique Art Deco features and bring this building to life by giving it the "wow" factor it deserves. Stay tuned for this incredible transformation!