Essential Geometric Features for your Interior Space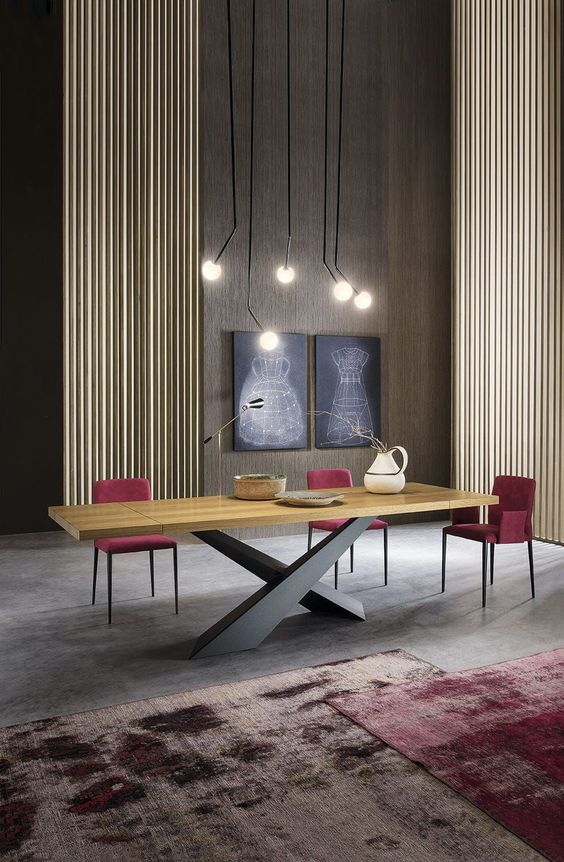 Before discussing our top 5 essential geometric features for your space, we need to understand that to have a great interior design composition, we must identify the elements of the room. Which ones will be playing the dominant role? Which will have the assisting or accent feature role? This is an important tip that we need to keep in mind because we don't want to feel overwhelmed with a room full of geometric patterns. As a rule of thumb, just focus on picking a few elements that would make your room pop!
Below are our top 5 geometric elements that will add a perfect balance to your favorite space.
1. Tables
Dining tables, coffee tables and corner spreads are elements that are in constant use. So, why we not consider choosing a dynamic element for your living spaces? Pick a table that would look interesting, such as those that have a geometric design, or a glass table top with a triangular leg. This airy design may create a visual and save space and at the same time. It would also create a focal point in the room. Pick a unique table that will make your space pop in a fun way.
2. Artwork
Artwork is a topic that never goes out of style! It puts character into our spaces – a geometric abstract painting may be your perfect choice to make a statement in your bedroom! Today, we have a variety of choices to choose from, starting with monochromatic & complementary colors, overlapping elements or simple collages… etc. Pick the perfect geometric artwork for your favorite space!
3. Chairs
Geometric and strong angles are taking over chairs in obtuse ways! This is a continuation of the minimalistic influence into home décor. Bringing back simplicity and cleanliness into the room. Having geometric furniture may increase the perception of light within a room, making it feel larger and more spacious. Geometric furniture can be found in different materials such as; steel, glass, aluminum, fabric, wood…etc. Choosing a steel chair for your room may transmit a cool feeling. However, wood chairs may transmit softness and coziness to the environment. On the other hand, if we included panes of glass, it will create the illusion of a larger space.
Transform your space by choosing unexpected angles into your chairs! Which is your favorite?
4. Accessories
Geometric trends are expanding to every corner of our interiors! Accessories are one of them! They give an essential touch for any room design. The best part is that they are functional objects and aesthetically beautiful. You can find geometric flower pots, triangular candle holders, abstract animal sculptures, interesting bookends, a revolving magnifying glass, a storage glass cube, geometric mirror shapes, vases… etc. Adding color, texture, and shine will have 20% of your interior design ready! So, don't forget to add accessories to your space, as they complete the design concept.
5. Lighting Fixtures
I will close this blog with geometric lighting! This is one of my favorites! Angles and shapes are the inspiration for this trend. Having one of these lights in your house will catch everyone's eyes because of its bold lines and repeated patterns. It would add that modern twist that you want! These geometric elements can be found in a variety of materials that can match the rest of your house. Also, they have traditional to contemporary styles, which makes it easy to work into all settings. Many of them are open, showcasing the beautiful filament bulbs. So, shape up your house with this geometric wave!
Don't hesitate to come to our office to check out the geometric lighting that we chose for our workspace.
Hope to see you soon!
Photos Source: Pinterest