Get in the Ethnic Mode!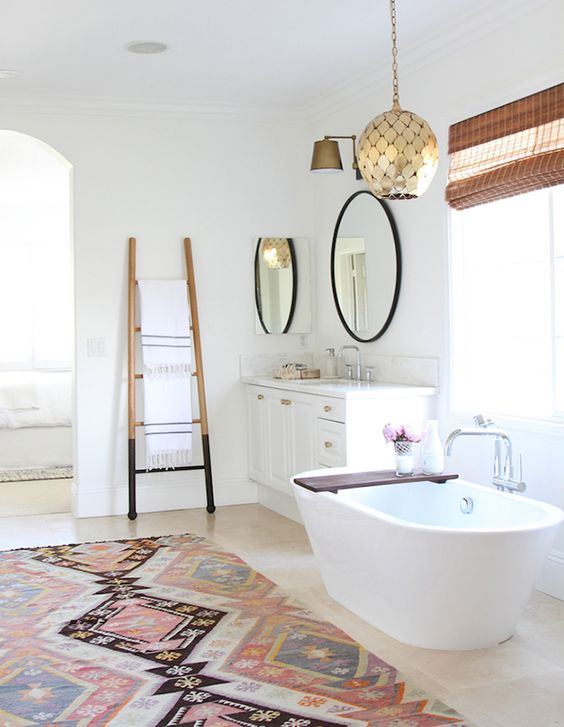 Rugs are one of the best decorative accessories, especially in these months of transition when temperatures begin to fall and living spaces gradually require more warm, inviting and cozy tapestries and decorations. Also, rugs serve to cover our floors, protect them, and define a particular space. This element can give us an elegant, informal, cozy or rustic environment; since everything depends on the material and colors you choose.
One of the trends in rugs for this year is the chic ethnic style, which has become a must-have in our interiors. Here are some examples to check out!
Kilim rugs:
They were born in Asia, Eastern Europe and North Africa about 3,500 years ago. They are considered the oldest in the world! They were made by hand of the nomadic tribes in order to warm themselves, pray, sleep, etc. They use natural fibers such as cotton, wool, and silk. Therefore, it is a rug that does not contain hairs. They are usually characterized by their geometric and floral designs that emphasize the striking colors they carry.
The fabrics of these rugs are very versatile so they can also be used for quilts, pillows and for any furniture that you want to cover. Aside from the versatility, it also is reversible and super easy to wash.
As we all know, in the winter season static is everywhere! With a Kilim rug at home, you will not have to worry about that! Due to their composition of natural fibers, they help to reject static. These are hypoallergenic, perfect for people with allergies. Does it fit your lifestyle? Think no more and incorporate them into your favorite space!
Beni Ouarain rugs:
Hailing from the Moroccan Berber tribes, used as blankets due to cold temperatures. It is manufactured by hand with rustic wooden looms using sheep wool. It usually contains geometric tribal designs with cream, brown and black tones. This kind of rug is incorporated in Nordic trends, which enhances elegance and subtlety in the environment. This traditional piece has kept its essence free of ornamental overkill, which makes it a perfect option for lovers of classic or contemporary designs.
Boucherouite rugs:
Are you looking for a rug with beautiful and radiant colors? How about silky and capricious drawings with an avant-garde style? Do not look any further! The Boucherouite rug is the right one to give color to your environment. This rug has a different feature than the previous ones due to its manufacturing method. The women of that time used cotton, synthetic fibers, Lurez, Nylon, plastic ... really, anything and everything they had on hand. So they created compositions with tears, circles, zigzags, chromatic intensity, fire reds, pink roses, acid oranges ... Don't you find it interesting?
Rugs from South America:
For this latest trend on rugs, we teleport to another continent: South America!
Latin America soaks us with its culture and art in making rugs. In the highlands of Peru and Bolivia, people use colorful and heavy carpets of sheep, llama or alpaca wool. These are dyed with natural pigments such as cochineal. These rugs are prepared in a very peculiar way because they tie the wool to one end of a stick and the other side is tied to the waist to begin knitting. Every little detail, line or color symbolizes the identity of the different people. Don't you think it's unique?
Imagine one of these rugs in the center of your living room or bedroom. You will see how bright and cheerful colors will narrate culture to everyone who enters this setting. On a side note, in other countries such as Argentina, rugs are created with more muted and pale colors.
Which is your favorite, Pale or vivid tones?
I love them all!
Photo Source: Pinterest