How to Go Bold with Wallpaper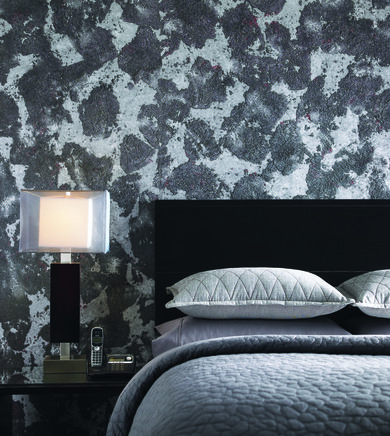 Wallpaper dates all the way back to 200 B.C. when the ancient Chinese glued rice paper to their walls. In 105 A.D. Ts'ai Lun incorporated textile waste into papermaking. The Arabs and then Europeans refined this technique. Louis XI of France called for 50 hand-painted rolls of paper for his castle walls. He was known to travel between castles and thought it necessary to bring his furnishings with him. Wallpaper became more common in interior design after the advent of the printing press. Wallpaper has always been a luxury; however, it's fallen in and out of popularity. It was huge during the Victorian Era and during the Arts and Crafts Period. Paper again made waves during the 70s and 80s with bright orange, yellow, and brown florals, but then fell out of style. But now, surprisingly, 2016 welcomes back wallpaper with vigor! Wallcovering companies like D.L. Couch and MDC are making incredibly beautiful products. Their high quality papers offer a huge variety of styles, colors, textures, and patterns. Here are four types of wallpaper already making bold statements amongst designers:
Animal Prints: If you can find it at a zoo, you can find it for your wall. From zebra to giraffe and feathers to faux fur, there is an option. Often these prints are downplayed and done more elegantly than even imagined.
Floral Cascades: Dorothy Draper would be proud of all the floral wallpapers seen trending right now. Designers are covering rooms with big, bold botanicals and vibrant florals.
Geometric Patterns: Geometric patterns have been very popular the past few years. They have been weaved into blankets, and stamped onto pillows. But this year, they're being incorporated into wallpapers. The prints can bring an order to an accent wall and are very stylish.
Illusion Coverings: There are also papers that mimic natural materials. These papers have the look of concrete, wood, tin, and even leather. They're very interesting and can create a really curious aesthetic.
Wallpaper isn't always being used in the master suite or the living room; most often, we see it tucked away into powder rooms, accent walls, and hallways for a punch of interest. With the new digital printing capabilities, wallpaper isn't the same as it used to be and its time we relinquish the wicked stereotypes we have placed on it. So the next time you hear about wallpaper, don't automatically think it might not be the right pick for your space. Wallpaper could be the very thing it's lacking.