How to Incorporate the Color Black into Your Interiors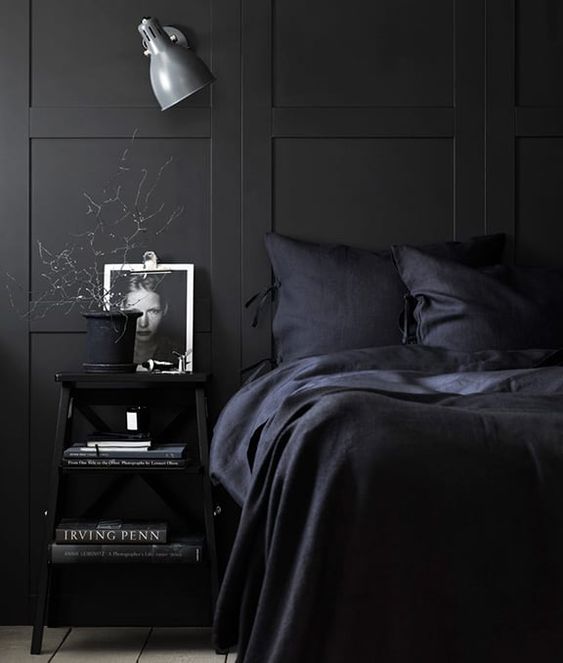 When I have asked people about their thoughts on incorporating black into their interior space, most of their answers were negative. They think using an enormous amount of black would look Gothic. Some think it wouldn't be appropriate for a living space, or they are just afraid of using it. However, this strong color transmits an edgy and sophisticated atmosphere. For this 2018 trend, black is making a serious splash in an exciting way that is adding a little flair to interior design schemes.
Black in Bedrooms
Most of the time, bedrooms have the tendency of being introduced with a neutral or light color. However, the color jet-black is opening their doors with a new trend for interiors.
Having black doors facing a bedroom will add some drama and glamour. This dark color has the power to make your space feel more intimate. It would play as a contrasting element for your interior space. For black walls, we apply the same formula because they elevate any furniture around them.
Flirting with the dark side? Make a change to your white doors into a jet-black finish; this would give them an expensive and polished look.
Stunning Black Kitchens
Over time, kitchens have evolved from a space of just cooking into a common space. This is due to kitchens having open spaces that connect with the living room, in which people share moments with friends and family. That's why people look for a unique alternative to design and lay out their kitchens in the best way possible.
Recently black kitchens have had a surge in popularity. One reason is that they are really easy to clean and black provides a touch of fashion and functionality to space. Having jet-black in your kitchen can fit in with your style by combining it with traditional, modern or minimalist features. Use this dark color in your lower cupboards; they would make a real statement and would increase the authority for a sophisticated and a fun moment with family and friends.
Black Furniture
Styling your furniture with black seems like a natural fit, which is why bedroom furniture and a home office set up with large filing cabinets, would look perfect with jet-black accents. On the other hand, black on black looks great but it can be degrading to the environment, so start with stained wood trim in order to make the atmosphere more dynamic. Remember that using different textures would definitely enrich the black color in your space and vice versa. Also, graphic patterns could add some definition into your space. So if you are looking for a bold vibe and a minimalistic feel, try them both!
As another option, if you are in the process of incorporating black little by little, you could start with some accent furniture, such as a black dining table, chair, or an accent sofa for your living room… anything you like can go black!
Luxury Powder Rooms
The majority of the powder rooms that we have in our homes do not exceed more than 7'6" x 3'5", which means most are considered a small space. And, according to the décor myth, we shouldn't use black in a small space because it would look smaller than it is. I completely disagree! Jet-black can be used everywhere! Having the variety of textures and patterns could make your small powder room into a perfect tiny jewelry box. These textures and patterns naturally support other dark elements in the space, without creating a monochrome licorice novelty aesthetic. Because of its dark pigmentation, black can frame your powder room with increased authority.

So, what are you waiting for? Go ahead and make your family snapshots feel like museum pieces!
Photos Source: Pinterest