Join Us for an Evening of Shopping!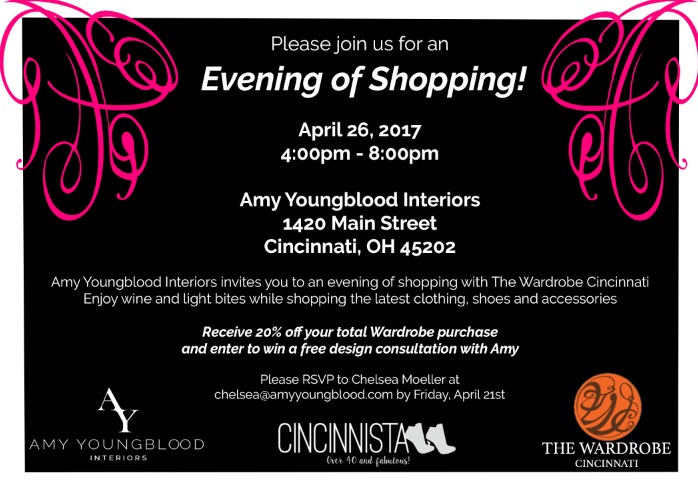 Amy Youngblood Interiors is teaming up with local boutique The Wardrobe Cincinnati for a shopping event this Wednesday, April 26th! From 4:00-8:00, Cincinnista's interested in style and fashion will be browsing through the latest Wardrobe trends at the 1420 Main St office in OTR while sipping wine and enjoying lite bites.
With everything from luxury shoes, accessories, handbags, and clothing, Personal Stylist and Store Owner, Lesley Hern has been in business since 2008. The Wardrobe carries various fashion lines from contemporary designers such as M Missoni and Malene Birger, offering tailoring to all clients in order to perfect any item purchased.
Amy Youngblood's Cincinnista blog focuses on the latest fashion trends for women over 40, so teaming up with Leslie for this special event is the perfect opportunity for both company owners to collaborate and share their love for style!
A 20% discount on entire Wardrobe purchases will be provided during the event! Amy Youngblood Interiors will also be be raffling off an interior design consultation with Amy valued at $300.
Check out the Wardrobe Cincinnati at 6816 Wooster Pike or shop online at thewardrobecincinnati.com. Visit cincinnista.com for more style tips and upcoming events!