Latest Trends in Cabinets and Countertops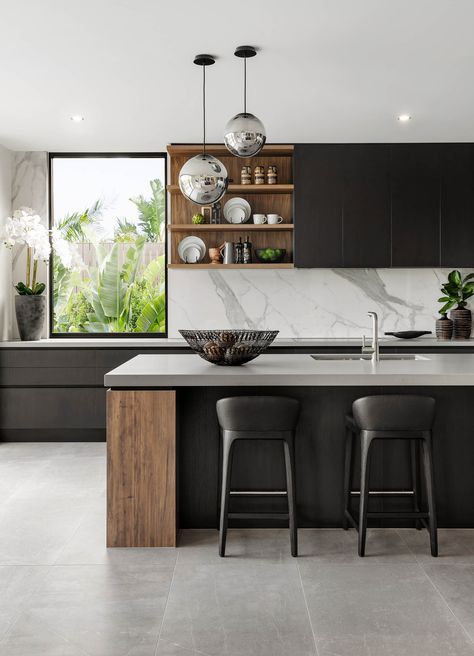 Looking for new cabinets and countertops?
For the longest time all white kitchens have been at the top of the design trends list, but they may be heading out. While all white kitchens will never go completely out of style, we are seeing color and wood tones becoming more prominent.
One of the most popular trends we are seeing is matte black, and it is now becoming big in kitchens. Matte black is both practical and elegant. It's easy to keep clean and will not be going out of style anytime soon. If you are concerned about a black kitchen becoming too dark, you can incorporate warm wood tones to help tone it down.
Stained wood cabinetry is becoming more popular again, but instead of the dark or orange tones we've seen in the past, we are seeing more gray and natural wood tone stains.
Two tone cabinets started making quite an appearance in 2018, but it's now becoming the "thing to do" this year. You can go bold with a pop of color among neutral cabinets, or you can keep it more neutral with two shades of the same color.
As for countertops, granite is no longer the most popular option these days. We are seeing more and more people switching to quartz. Quartz is known for its durability and color consistency. It is extremely easy to maintain, and is not porous.
Concrete is popular because it is easy to customize. These countertops can be a variety of colors, textures, and finishes. However, they do require maintenance. They need to be sealed regularly and they are liable to crack.
Reclaimed wood countertops are great because they are sustainable and made from reclaimed materials. Using wood is a more environmentally friendly solution than extracting natural materials such as marble and granite.
The 70's are coming back! Terrazzo was popular in the 1970s and seems to be making a reappearance. It's manufactured by combining multiple materials like glass, marble, and granite. If you're looking for something unique, this is the way to go.
Need help designing your kitchen space? Please contact us for assistance.
Photo Source: Pinterest