New Year, New Trends!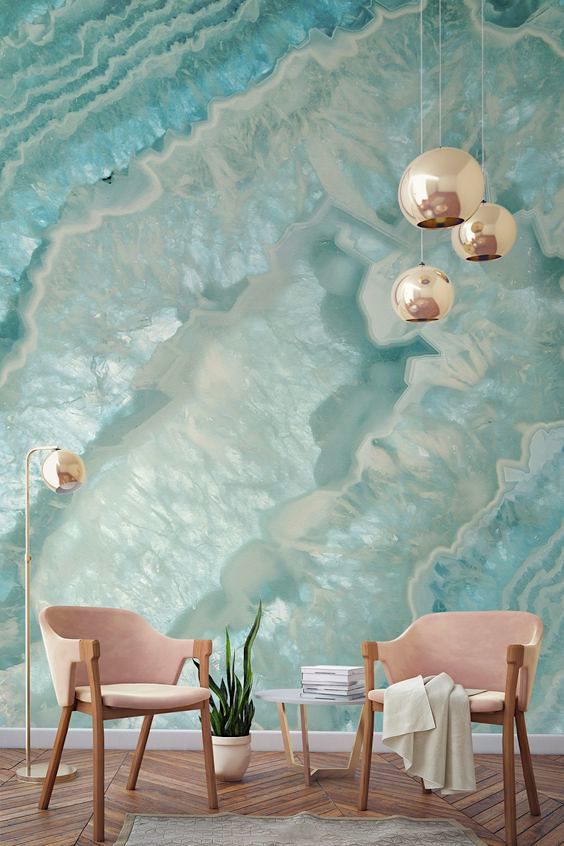 New Year, new vibes, and for sure new trends that are coming in 2019. In the first blog of the year, we will explore some interior design updates and share all of the details!
Agate Wallpaper
Yes, wallpaper is still in! However, for 2019, Agate wallpaper is making a statement! The Agate stone is known for its positive impact on its surroundings. Having an accent wall with this stone texture will make a splash of good vibes and a natural feeling but with non-uniform lines of colors. Use this wallpaper for a brilliant nursery, deep blue powder room, a chic neutral room, or for anything you want. It would add the shimmering style that you may be looking for!
Blush Tones
Blush tones are the main color of our palette for this year. This color acts as a neutral shade for our interiors. You can mix with metal fixtures, navy, forest green, citrine, or grey accents. It would add a serious wow factor to any room, without being overly girly. Using this color may scare a few guys, but you can still use it in small amounts such as accessories, maybe an accent wall with a grey rug or a blush blanket or whatever you feel needs a little bit of blush.
Metals
We are beginning to see metals with an interesting twist into furniture. Art is the main inspiration of the fabrication of these functional sculptural pieces. This New Year is waving goodbye to stainless steel and polished nickel and introducing a range of metals such as gold, brass and blackened iron that will be used in an ornate or massed way. You can combine these metals with natural finishes for a completed look! Metal has never looked so good!
Handmade Custom Pieces
I have noticed when people buy a piece of furniture or a fixture they want to know the story behind it. This means people are moving towards more unique art pieces. They are getting more engaged with the furniture that is going to be in their homes. They are curious about who made it and what the process was for the piece. Local artists that work at or with small businesses make most of these wonderful pieces. Having artisan fixtures or pieces of furniture in your home would bring some personality and add value to it. While it is not a name brand, it has the peculiarity of having a unique story behind it.
Plinth Tables
For this New Year, the style of coffee tables is swinging back towards bulky and low profile pieces. Forget about the minimal Scandinavian furniture that came with skinny legs…. Now large plinth, or heavy based tables are making big statements in our living rooms! The uniqueness of these tables is that they are low-slung and have a stone-like weight that allows balancing the rest of delicate furniture and accessories.
Start the New Year with new ideas and good vibes for your home and family!
Photo Source: Pinterest