Outdoor Design Tips for Summer Grilling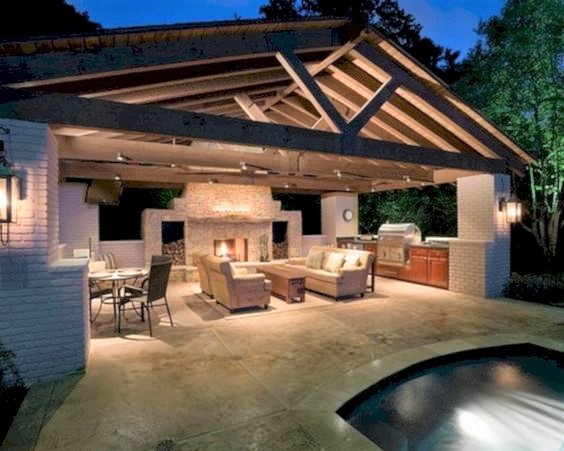 Outdoor Kitchens
Summer is here and that means spending more time outdoors. If you're the cook in your family and throwing an event, you know firsthand that you miss the social activities that are going on outside because you are inside cooking. Consider installing your own outdoor kitchen and you won't have to miss anything that is happening at your outdoor event. Outdoor kitchens have become more popular with people entertaining outdoors. Whether you have a fire pit or a pool, an outdoor kitchen will take your outdoors to the next level. Outdoor kitchens can have multiple layouts including: L-shape, U-shape, and one plane. With outdoor kitchens trending, some popular ideas are to keep them durable, environmentally friendly, energy efficient with newest cooking technology, and designs with a natural rustic look or clean lines of contemporary and modern. Adding an outdoor kitchen with a deck or patio will give you a 75% return on your investment.
Appliances
The first appliance that is a must for an outdoor kitchen is the grill. The grill can either be freestanding or built-in, and comes in three options of charcoal, gas, and infrared, which uses gas in a different way. Another side option is to add a gas burner next to the grill to cook food in pots.
The second most important appliance is the sink. Sinks can be used for water, mixing beverages, hot pans, and cleaning up. Refrigerators and ice machines are also a must for outdoor kitchens. Refrigerators can hold beverages and make food prep easier so you do not have to run back into the house. Ice makers are important because you need to have ice with your drinks. Remember, if an ice maker is installed you must have electrical and waterline. Warming drawers can be useful because they can keep food warm while other food continues cooking. Last additional appliance that can be added to an outdoor kitchen is a brick oven to cook pizzas. Although a brick oven is not needed to complete your outdoor kitchen, it does give you that true authentic Italian taste.
Surfaces and Materials
There are many surfaces and materials that can be chosen for your outdoor kitchen. The countertops can be made of stone, tile, or composite. Each one of these countertops comes with its positives and negatives. For example, stone is great with heat and hot pans, but if not sealed correctly it is easily stained. Cabinets for the outdoor kitchens can be made from stainless steel, stone, brick, and composite. Usually you will see a stone or brick cabinet with a stainless-steel drawer system, which can come in handy when storing items such as spices, plastic bags, and utensils.
Environment and Placement
The region you live in affects how you design your outdoor kitchen. People in the south tend to want more shade with their outdoor kitchens as opposed to the west where this kitchen might seek more sunlight. Also, wind can be a huge factor in outdoor kitchens by blowing things away, and can possibly be damaging if winds get too strong. The midwest has the highest wind zones in the united states, so if you are considering an outdoor kitchen in this region, you might want to design features that will block wind. Your outdoor kitchen should be located near the area where social events take place, possibly close to a pool or patio and deck. The grill should be placed where ventilation can be used and the path of smoke should go the opposite way of where the eating table is located.
Photo Source: Pinterest