Pillows, The Perfect Solution!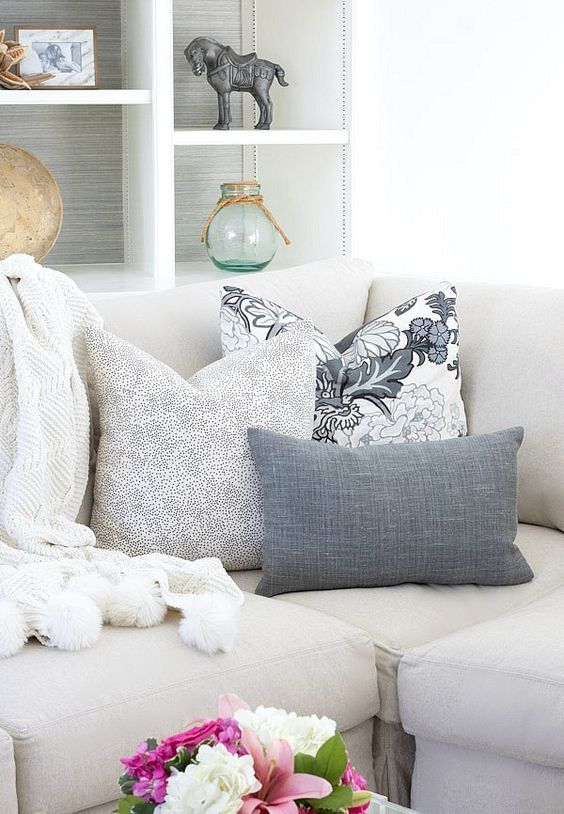 We have heard the following from some of our clients, and I'm pretty sure this has happened to you too… "One day, I was walking around my home and had the feeling that something was missing in my living room. Something that could brighten up the room, something that could add a touch of whimsy… perhaps a new pillow? It was a simple solution, however when I went to the store I didn't know which one to pick, what color, what size, what texture, what style, how many…etc."
In this blog, we'll give you some tips to solve your pillow selection problems. These tips will help you make great pillow choices that will change the look and feel of your space!
Color Palette
Always stick with the colors in your room. Don't try to add more colors to the palette than you already have. However, you may be able to choose some neutral colors or the same colors of your palette in your pillows with prints and patterns. This can make your room look more interesting.
Shape and Size
In order to pick the perfect sized pillow for your room, you may need to consider the style of your room. Here are some examples.
- Modern: The trend for a modern style is a square pillow (18 to 24 inches) or an oblong pillow.
- Traditional: For this style, a 20 x 20 square pillow can be the best option for you. Combined with smaller or circular pillows.
- Eclectic: Choose a mix of diverse shapes and sizes.
Textures
Using the same color and textures for your furniture is boring! If you have a velvet sofa you can add interesting embroidery or leather pillows. There are so many textures and designs for you to choose such as quilting, fringe or any other interesting pattern that catches your attention.
Simplicity
If you are into a simple and clean style with a minimalistic touch, you may want to stick with a basic design. You can definitely add a simple print pillow, one busy print pillow and a solid one. This is a great option to keep a balance that you need in your room. When we talk about bedroom pillows, it is recommended to choose the largest pillow that would be the main accent pillow in the room. This could be a solid color, busy design, different texture, whatever you pick… this pillow will set the tone of your room.
Trim
I know that some of you are huge fans of trim for your pillows. However, if you overload your room with trim, it will draw your eye away from an arrangement. Trim is a beautiful option of decoration, but you need to keep in mind that it has to be used in moderation and in select styles. Some of the styles that you can incorporate for trim could be traditional or maybe for a young girl's room. Only use trim when your room calls for it!
Choose the perfect set of pillows that will match your personality and style of your room! And don't forget to have fun!
Photo Source: Pinterest