Summer Decorating Ideas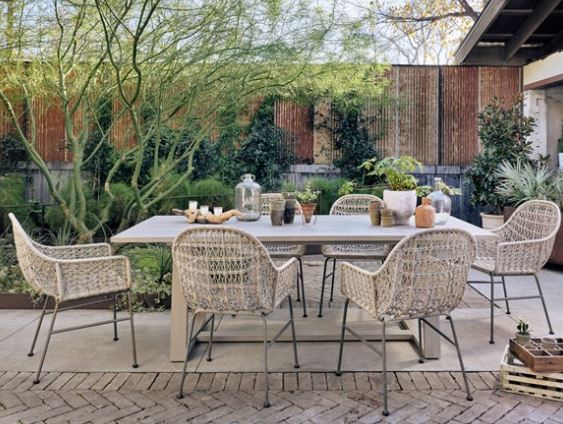 Summer is a great excuse to update your indoor and outdoor spaces. The key to summer makeovers is to add elements to your space that make summer easier and more festive. Just like any other holiday, summer decor can be fun, festive, relaxed, and add to your summer entertainment plans. Some of the best ideas for summer decorating can be to add outdoor dining, an outdoor lounge area, or freshen up the house with new summer scents. Here are some of our best summer decorating ideas to freshen up your home. 
1. Once the cicadas leave, move the party outside. Summer entertaining and cookouts are an essential part of the season. The best outdoor dining sets have enough space for your family and additional guests and are comfortable enough for conversations and lingering. Include outdoor pillows and blankets to keep the party comfortable throughout the night. For additional design tips, tie the house design's colors, patterns, and finishes into the outdoor space. 
2. Summer decorating is more than just the visuals; summer scents are a part of all of our memories. Tropical, citrus, vanilla, and driftwood are perfect summer scents to bring the outdoors into your indoor space. The best tip for incorporating scents into your home is to choose one or two scents consistently across your home. 
3. Change up your bedding for summer. Winter bedding is comfortable but can get heavy when the summer starts heating up. Changing up your bedding for the seasons can be a fun way to freshen up your space, and make your sleep more comfortable. Look for lighter fabrics like linen and cotton to keep your sleeping comfortable. 
4. Add outdoor string lights to your space to create a romantic atmosphere. Look to restaurants and wineries for inspiration on the best ways to decorate your porch or patio. String lights are considered ambiance lighting, so they'll add mood to your space instead of direct lighting. There is a large selection of string lighting sizes and colors, but white bulbs can fit into any decorating style.
If you need help sprucing up your summer decor, please contact us for a complimentary consultation. You'll be glad you did!