Ten Tile Shapes Worth Noting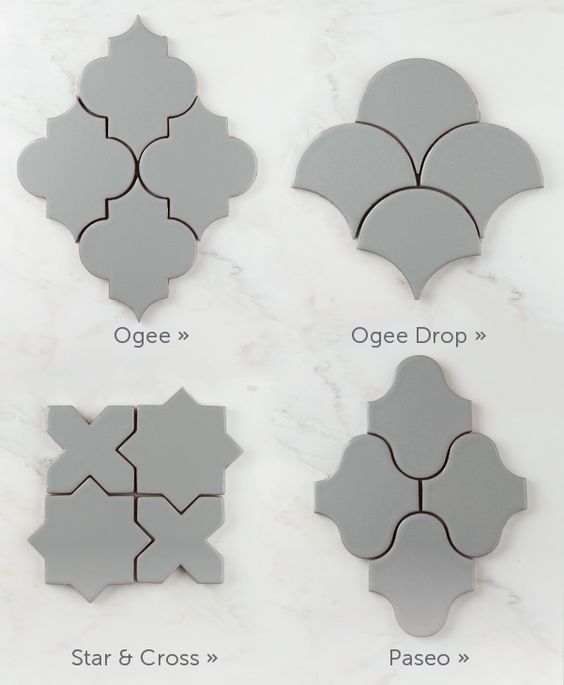 Tile is a very versatile element in interior and exterior spaces. It can make or break a whole space. When it comes to choosing tile to create interest, the first thought is often a mosaic or a bold color. Shape is often overlooked. Here are ten tile shapes that could make for very dynamic backsplashes or bathroom floors:
FLAT OGEE SHAPE: This tile harbors a Moroccan feel. It's a nice shape for any room. The flat ogee is interesting because it is not strictly angular or curvilinear, but more a combination shape. Because of its Arabian heritage, this shape is often seen in vibrant colors; however, it looks nice in neutrals for a change also.
PICKET: The picket shape is adaptable. It can be laid in vertically, horizontally, or in a complex braid-like pattern. Essentially a stretched hexagon, the picket is a trendy silhouette right now.
RHOMBUS: The rhombus shape is exciting because of all the possibilities it brings. M.C. Escher would have loved this tile if laid in different greys to create a three-dimensional box effect. The tile can also be alternated in colors to create a vertical chevron pattern or horizontal stripes.
TRAPEZOID: The trapezoid is a tile shape that is frequently overlooked. Because of its rarity, it can create quite a statement in a kitchen. It can also be paired with the rhombus shape for even more visual attention.
STAR AND CROSS: The star and cross tile pattern is pretty straight forward. The crosses or "X" shape is alternated alongside an eight-sided star. This tile will add interest to any space.
PASEO: The paseo shape is a curvilinear shape. It's as if you've taken a rectangle, and pulled the top and bottom sides into curves. This shape works well in neutrals because the shape of the tile itself is so interesting.
HEX: The hex tile is just a simple hexagon shape. It comes in many sizes and is timeless.
KITE: The kite shape is a pennant shape. The four-sided shape has one acute angle and one obtuse angle opposite each other with right angles between. It's usual shape is great for eccentric, geometric rooms.
OGEE DROP: The ogee drop is also called the Moroccan fish scales. The tiles laid look like drawn scales on a fish. These tiles are a very nice option for a bathroom.
PENNY ROUND: The penny round is a tile that will always be a classic. They came out in the early 1900s. The standard size of a penny round is ¾ of an inch in diameter. They are sometimes seen tiled in funky patterns or floral mosaics, but are timeless laid in a white.
So if you're struggling with a choosing color that isn't as "bold" as you'd like, maybe switch it up and try a new shape instead. This way you've done something different, with out going way out of your comfort zone.