The Wave of Wallpapers is Making a Comeback!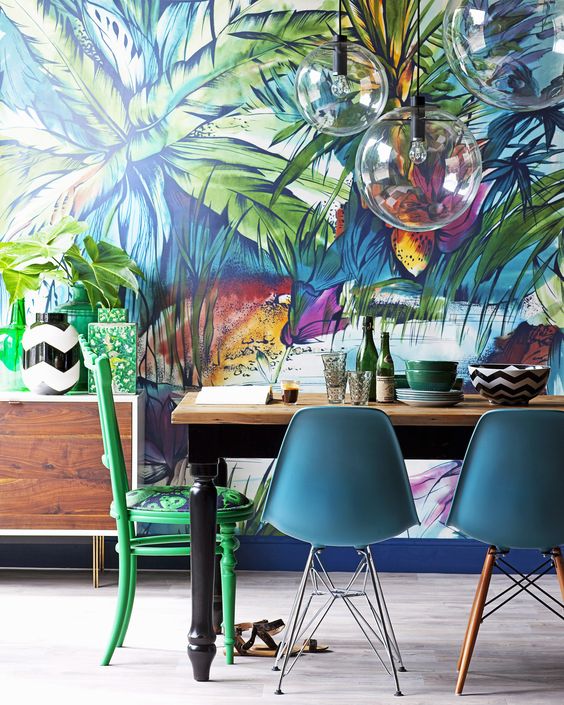 Wallpapers are slowly making a comeback into interior design trends for 2018. The resurgence of modern wallpapers brings new ideas to highlight your personal style in dramatic ways without breaking the bank. Isn't that awesome???
In this blog, we will introduce you to four wallpaper trends as an inspiration for your next décor update.
Floral:
Currently, there has been an even greater rise in the botanical interior trend which embraces the beauty of the great outdoors by bringing a horticultural feel into your home. These big floral patterns will give character to any living space. Especially for those of you who like to have the feeling of nature in your home, but find it difficult to keep flowers or other plants alive, either because of work, kids, school...etc. No worries! This floral trend of wallpaper is made for you! From the delicate blossoms of large scale to an array of roses and tulips, vintage-inspired wallpapers will create a special, fresh and modern atmosphere in your home. Nature's beauty can make a big statement without overpowering certain spaces. Would you try it?
Geometric Patterns:
Geometric wallpapers turn a space into eye-candy that goes along with every style. This pattern of wallpaper has a variety of colors and classic shapes such as squares, hexagons, triangles, pentagons, circles, and diamonds.
The symmetrical shapes transmit an order through their clean and simple lines. It achieves a balance of a visual interest without overwhelming the environment. This pattern could be applied in a kitchen, home office, bedroom, hallway or even your kid's bedroom.
Wherever you want to apply it, geometric wallpaper would make an unexpected twist you may be looking for!
3D:
Where would you like to travel every time you are sitting in your favorite space? How about a peaceful environment like in the middle of the woods, beach, dessert? Or maybe you are more of a city person that likes the hustle and bustle, such as the streets of New York City, Paris, or Hong Kong?
3D wallpapers will transform your room from floor to ceiling into a different environment without leaving your home. Unusual patterns, protrusions, ornaments, landscapes, and exposed brick will provide a character of luxury and add a textured look to your room.These wallpapers can be set in a hallway, bedroom, bathroom and even in your stairwell. Pretty much any room you want to catch everyone's eyes. With the different dimensions and a cozy atmosphere, your favorite getaway will be transported to your home. Where will you go?
Metallic:
Some people are afraid to use metallic colors and/or textures in their personal style, especially if used on a large scale. Have no fear! 2018 brings us a creative way to incorporate metallic into our homes. Metallic wallpapers are becoming part of a new stylish home décor. They can add depth and sparkle, while making the interior of your home feel incredibly luxurious. Metallic wallpapers come in a selection of geometric shapes, floral, botanical and abstract designs, so don't feel forced to use solid silvers, golds or coppers. These metallic wallpapers are part of the psychology of color. Did you ever hear about that? Because of their metallic finish, they reflect the light and it makes the room look and feel larger. Perfect for small spaces! See if you dare to try this metallic wallpaper!
Don't wait too long to give your home the lively transformation it deserves!
Photo Source: Pinterest