Top 5 Patio Trends for Your Summer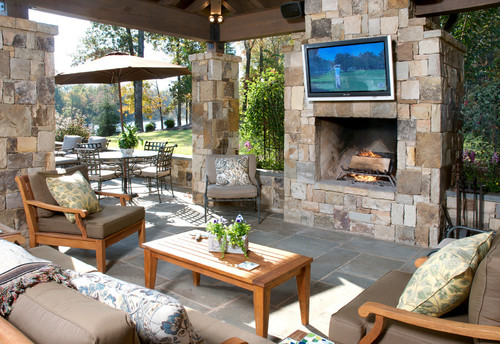 Stable 80 degree temperatures have finally hit Cincinnati which means summer is fast approaching! This summer, spruce up the patio and impress your favorite neighbors with Amy Youngblood Interior's top 5 patio trends! 
1. Indoor meets Outdoor: Amazing new fabrics have stepped up the game for outdoor furniture making way for fresh new patterns and seating options. Mostly made from acrylic fibers, these fade-resistant and waterproof upholsteries help create a cozy living room area right in your backyard. Avoid the typical lawn chair and instead, opt for a bright summer colored cushion on your outdoor sofa. These elegant furniture selections will help your outside feel as comfortable as the indoors. 
2. Barbecue Bars: Creating a functional outdoor kitchen area is just as important as bringing out the indoors with your new comfy furniture. Whether on a large or small scale, an outdoor bar or prep station can be as easy as two stylish bar stools and a simple free standing high top table. Place this high top seating across from a built in grill or designated bar cabinet, and voila! Guests will love this party addition! 
3. Stylish Walkways: Sometimes while walking through someone's backyard, people don't know where to step in order to avoid the beautiful landscaping and dirty shoes. Creating a nice walkway will guide neighbors through to the focal point of your patio. Try mimicking your flooring from indoors with a herringbone or brick design. Use modern concrete slabs to make your path simple and stylish! 
4. Stone Privacy: In order to create designated areas for your patio, build a rustic natural stone half wall that will give your outdoor table or seating area a quiet secluded feeling away from the grill and bar. A little stone accent will add charm and character to your space. An easier privacy option are beautiful wooden lattice walls that can house gorgeous green vines while adding a shaded breeze. 
5. Extra Flame: On a warm summer night, the grill may be in full swing, but an elegant touch to your backyard patio is a fireplace. Whether it be a freestanding bonfire pit or a fireplace built into a privacy wall, a little extra flame will create a romantic and soothing touch to your patio. A fire pit is a great relaxing focal point for your guests with plenty of ways to dress it up. Try a sleek cement square bench with a fire in the center or an elegantly stacked stone circle in the corner of your seating area. 
This summer, dress up your yard with a these patio suggestions and we promise, your guests will feel cozy and welcome while soaking up the summer sun in style!