Trending Interior Design Ideas for 2023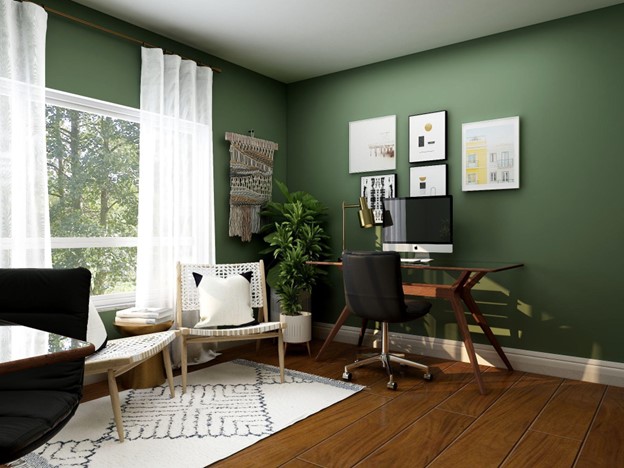 guest post by Natalie Akins
Design trends come and go each year, and 2023 has proven itself to be a highly opinionated year for design. The all-white kitchen has been updated, and other design details have morphed as well: how do you keep up? 
These are the top trending interior design ideas we see in 2023 and how to achieve them in your space.
1. Updating the Home Office
Home offices have become hot spots in properties over the last couple of years, with many buyers refusing to look at a property unless it has a designated workspace. In 2023 these areas are becoming more focused, with details like decorative acoustic wall panels that help you cut out noise and distractions during work. Many are also adding details like privacy curtains and built-in speakers to make focusing easier.
2. Throwback in Shape
The 1970s are quickly becoming king in 2023! Curving and bold furniture silhouettes are showing up in many designs, and homeowners are going further retro than they have before. This is generally only referring to massive shapes and profiles, but some homeowners are taking it further in fabric and texture. Who doesn't love a beautiful set of velvet curtains or a corduroy couch?
3. Adding Warmth Through Color
The all-white kitchen was crowned as the largest home design trend of the 2010s, and we finally see this change into something new. Many are painting their kitchens warmer colors like a forest-green, or swiss coffee paint color, which can make the room feel more grounded and comforting. Not only is this softer than the sterile white color kitchens have been trapped in, but it also feels more welcoming.
4. Telling a Story Through Texture
Although color and shape have ruled the design world for ages, texture is an emerging feature in 2023. Consciously picking furniture, fabric, and wood textures that play well together and make your living space feel more cohesive.
5. Natural Wood Tones
Wood tones are quickly disrupting what we know about wood colors. For over 20 years, darker wood tones have been king, replacing the warm yellow colors that ruled the 1990s and early 2000s. When you add natural wood to your home in details like cabinets, flooring, or furniture, remember that tone and hue matter. Try to keep your home limited to how many different wood colors you have.
6. Stone on Your Fireplace
Although most modern homes are built without this detail or are built with a tiny electric one: fireplaces are making a huge comeback! This cozy feature can make every home feel more charming, literally and figuratively warm, and welcoming. Unfortunately, a lot of modern fireplace designs don't feel that welcoming. Homeowners are opting to add details like a stone on a fireplace, which can make them even more welcoming.
7. Sustainable Materials
Sustainability is one of the top conversations in 2023. People want to know that the products they purchase aren't hurting the planet further simply by existing. A large portion of consumers will only accept a property if it has green features that make it easier and more globally conscious to live in.
8. Warmth Throughout the House
Nobody wants to feel cold or unwelcome in their own home! In 2023 there's a big focus on taking things like air and heat and applying it through the house as evenly as possible. This means also adding basement heating and ensuring any additions or other living spaces have a clear connection to them as well.
The weather has been getting harder to predict, so taking it into your own hands can be a good choice. This means adding basement heating, creating a more airtight property, and giving it a chance to feel comfortable regardless of what's going on outside.
9. Skylights and Other Natural Lighting
It's no mystery that natural light has been a huge deal since the conception of interior decor and design: but the conversation around it is changing. Beyond simply looking good, sunlight is useful for abstaining from using lights and can help lower your electricity bill over time. Adding a skylight, or enlarging a window you already have, is a project that will make a house feel more like a home.
10. Warm Metal Details
Metal details have been bouncing between silver and gold, and over copper, for the last ten years, but a winner has clearly been found. Dark, brassy, and naturally-antique-looking metals are growing in popularity this year. This allows your other color choices to shine while also giving you room. Remember to keep metal tones and color matched in any space they're in so it doesn't come off too eclectic.
Design Is Moving Forward in 2023!
Whether you're redesigning your older home or you just purchased a property, and want to update it, a lot goes into interior design. In 2023 help pull your property into the future by updating these areas!
Natalie Akins is a freelance writer that loves sharing her knowledge and expertise on interior decorating and remodeling. She lives in her hometown of Austin, Texas where she enjoys spending time with her husband and decorating with her children. Natalie's work as a freelance writer can be found on Building Product Advisor, a new construction industry resource.