Why We Love the Hearth Room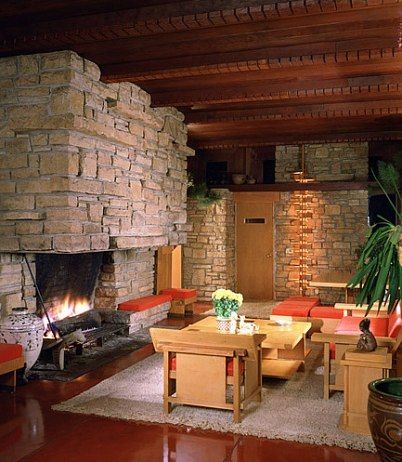 Frank Lloyd Wright was a great American architect. He designed buildings and furnishings for over 70 years. Most scholars divide the work he did into three bodies of work because of how drastically styles changed during the course of his practice. Frank Lloyd Wright had many apprentices that went on to be successful after learning from him.
One of the few concepts that seemed to preserver throughout Frank Lloyd Wright's work was this idea of the hearth room. Frank considered the room that housed the fireplace, or the hearth room, the gathering place for the family. He firmly believed this space should serve as the focal point for the home. Wright's famous Falling Water house in Mill Run, Pennsylvania showcased a grand hearth room that influenced the rest of the house. Wright believed the fireplace anchored a home both spiritually and architecturally.
With just five days till Christmas, Amy Youngblood Interiors recommends that you take time to really take advantage of your family's hearth room. Here are some not-so-traditional ways to enjoy your hearth room this season:
'Tis the season for Christmas movies. Whether it's Home Alone, Elf, or Christmas Vacation, these are surefire ways to enjoy your break.
Scrabble, Checkers, Chess: these are all great options for things to spread out on the carpet and play this winter season. We recommend avoiding Monopoly though, as there always seems to be that one family member that takes it way too seriously.
Just spend time together! You don't have to all be participating in an activity. Mom can read on her nook; your sister can obsess over Instagram; Dad can peruse the paper. But maybe try and do this together in the same room to really feel close this holiday season.
Catch up on pop-culture. Explain to your Nana who Kanye is. Listen to your dad talk about the free-spirited 70s. Ask your parents how they met; Ask them how they picked your siblings names; Ask them the color of your passed grandparents hair. Just learn and listen and enjoy each other's company this holiday.
It's the hearth room, for goodness sake! Clean the flu and light up a fire! Pour yourself some eggnog and enjoy the calm crackle of a blazing yule log.