Your Laundry Room… Not a Typical Room!
November 28, 2018
|
art, atmosphere, cubbies, fabric, green design, home renovation, how to get started, inspiration, interior design, light fixtures, lighting, mudroom, nature, organization, paint, pattern, rug, storage, style, tile, wallpaper, wood flooring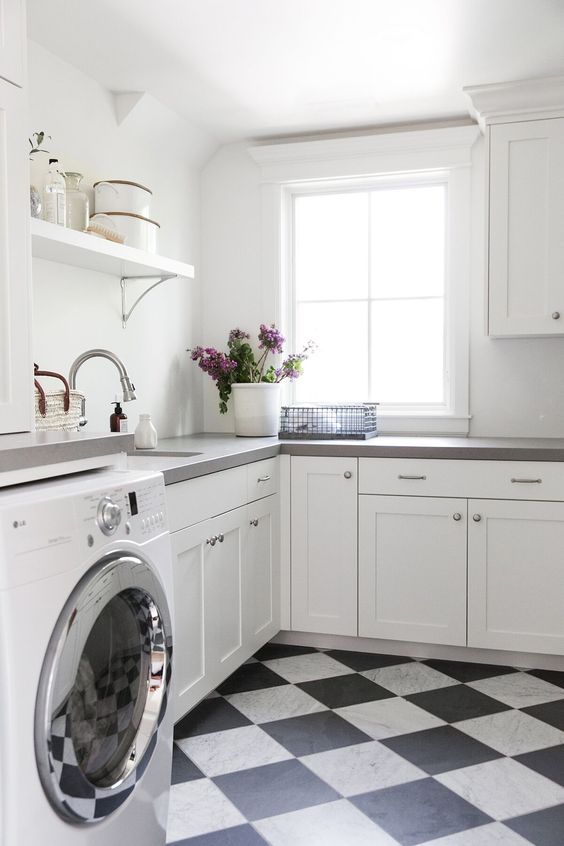 In the past, your laundry room was just a simple room… However, today it is as important as any other room. From floor to ceiling, you need to emphasize a style and create space efficiency and functionality. In this blog, I will point out some of my favorites tips and tricks.

White & Grey
This is one of the most popular laundry room ideas! Combining these two colors will make your space have a modern and clean look. The grey tone will reduce the harshness of the white and will give a sensible vibe. Adding an interesting floor pattern could help boost the style such as geometric or natural patterns.

Rustic
A rustic style is agelessly charming! Plants and woven forms such as baskets can definitely represent a clean and natural rustic vibe. If you are into the greenhouse trend, wooden walls painted in green will create a chic effect. Adding a wooden table on top of your machines will make a statement in your laundry room. By doing this you will take advantage of every corner and you will create a rustic workspace. 

Textures 
Textures are everywhere! Combine some textures such as nice wallpaper that could add a visual interest to the room. Use some hanging curtains in front of your machines. Add some artwork in a black wall and some green spots here and there. Use a busy or a simple design for your rug. Don't forget to incorporate light into your space to accent important areas and to help you to find stains. Lights can make a huge impact to your space, sometimes changing it completely. Use canned ceiling lights, pendant lights, and some under-the-counter lights. Lastly, add some final elements such as an elegant wire basket that go with your design.

Storage Space
If you have a large space assigned for your laundry room you can design as a multi-purpose room that could be a craft room, a mud room, a sports equipment storage room, a household cleaning supplies storage room… etc. Additionally, coupling an island or a craft table can definitely give you extra room for more activities like folding, sorting, small craft projects, etc. However, for people that struggle with storage space, is best to use floor-to-ceiling cabinets that will help you to achieve more storage space. Creating hidden and discreet storage is a good idea for minimal spaces, such as a fold-up ironing board on the wall. Incorporating some floating shelves, clothes bars, baskets, and wall cubicles can help to maintain everything organized.

Isn't that awesome? Include some of these ideas into your laundry room and you will see how fun is to do laundry! 

Photo Source: Pinterest